update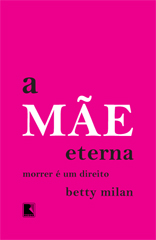 A Mãe eterna. At 98 years of age, the mother is almost blind, almost deaf, can hardly walk and eats like a bird. In the impossibility of conversing with this mother, the daughter-narrator writes to an imaginary mother, talking about her drama. She does this with a view to bearing the physical devastation, lack of communication and, even more so, to elaborate on the loss of a parent even before death.
In her reflections, she recalls the past of a combative women, ready for anything, who, on becoming a widow, took over her husband's company and began to read and re-read his love letters. The same letters that, because she is 98 and unable to see well, her daughter reads to her. Despite her age, however, this mother remains sharp and does exactly what she wants to do. She "puts one over" on anyone trying to control her with advice about doctors, medication, and food, and with this, continually feeds the humor of the narrative.
Thinking about her mother's condition, the daughter asks herself when life should be prolonged and questions the conduct of the doctor who tries to beat death at any price. A text about love and separation, which raises questions that are fundamental nowadays: How to face extreme old age? Is it a doctor's place to beat death? How to humanize the end of life?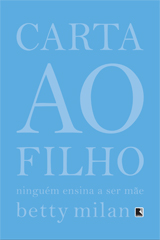 What kind of mother am I, Betty Milan asks herself in Carta ao Filho. How could I have avoided the mistakes I have made?
Allowing the question to guide her, she writes to her son and revisits their personal history to discover the answer. She realizes that she doesn't recognize herself in any style of motherhood and concludes that, in order to act appropriately, a mother needs to listen to her child. For her, there is no such thing as a model for a mother, or a model mother.
Without ever overstepping the limits that their relationship imposes, she writes about her love life, ignoring the centuries-old taboo that one should not talk about such things with their children and, in so doing, postulating that children need to hear them.
A gripping book that examines what it is to be a mother and a woman, entirely based on the author's own life from birth to maturity, including her studies with Lacan in Paris and her return to a Brazil that she rediscovers through analysis. Free of the notion that good mothers are infallible, Betty Milan communicates this liberation to her readers.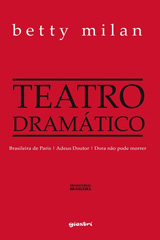 "Lyric Theater and Dramatic Theater" brings together    the six plays written by the author.
Betty Milan's Lyric Theater took off in 1994 with Paixão (Passion), written for the actress Nathalia Timberg and performed in various states in Brazil, aiming to celebrate love. This piece was followed by two other texts, also lyric in character:Paixão de Lia (Lia's Passion- 1994) and O amante brasileiro (The Brazilian Lover- 2003), commissioned by the actors of the Teatro Oficina.
In her dramatic theater, we find three plays: Brasileira de Paris  (A Brazilian Parisian – 2005), a satire on libertinism and machismo. She rejects both the ideology of the libertine, which is the opposite of love, and macho ideology, which discredits feminine desire. Adeus doutor (Goodbye Doctor – 2008) is about an occidental of oriental descent who, through not identifying with her ancestors, cannot be a mother. The hero overcomes the impossibility thanks to analysis, which reveals the unconscious reasons for her drama.
In the same vein, as Goodbye Doctor, Betty Milan presents Dora Can't Die, a play about cancer and madness, in which she reveals the importance of the subjective story of the sick person to the healing process.
---
on stage
The play Dora Can't Die premiered successfully at the Teatro Itaú Cultural. Since then Vozes (Voices) is preparing a cycle of dramatic readings to present the following plays: Hamlet, Life is a Theater, Waiting for Godot, Goodbye Doctor, Freud and Einstein and Dora Can't Die.